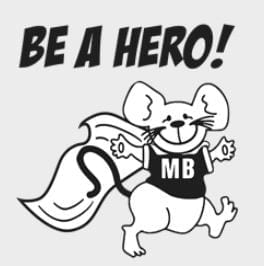 Safe. Respectful. Responsible.
Greetings, Meadow Brook Partners!
I am so proud to be a Meadow Mouse, and so grateful for all the Meadow Brook Heroes who are dedicating their time and energy to drive enrichment for our kids!
If you missed it, the first Meadow Brook First Lego League Jr. Expo happened yesterday!  It might as well have been a rock concert!
Mr. and Mrs. Vittorini and their crew of parent coaches and volunteers were our in force along with the Rochester High School "Faclons Engineering Design Solutions (FEDS) team, and our incredible community of parents and relatives there to support this year's ten problem solving, collaborative, robotics teams!  Yes…ten!
Here's a peek:
This is how it feels to be a Meadow Mouse! Awesome @firstlegoleague Jr Expo today! Proud & grateful! Thanks to Mr. & Mrs. Vittorini, coaches, volunteers, PTA & sponsors, & @RHSFalcons! Visit https://t.co/sR97JczqRp for more of the MBE story! #ThinkMBE #RCSPride @rochcommschools pic.twitter.com/CmMIS50REQ

— ThinkMBE (@ThinkMBE) December 9, 2018
Meadow Brook Robitics' 1st @firstlegoleague Jr Expo & STEAM fair at @RHSFalcons is rocking as we speak! Amazing ideas, problem solving, & so much fun:)! Thanks to MBE parents, teachers, & students…you are all Meadow Brook Heroes! #ThinkMBE ##RCSPride pic.twitter.com/O944jdDbRU

— ThinkMBE (@ThinkMBE) December 8, 2018
Also, our incredible group of Math Pentathlon thinkers are well underway toward representing MBE in competition in 2019!
These Meadow Brook Heroes are patiencing for this year's MBE Math Pentathlon competition! Another incredible enrichment opportunitysponsorrd by our wonderful PTA and run by our amazing parent partners! Proud to be a Meadow Mouse:)! #ThinkMBE #RCSPride pic.twitter.com/B7ZD60aVGo

— ThinkMBE (@ThinkMBE) December 9, 2018
Special thanks to the MBE PTA and our incredible team of parent Math Pentathlon leaders who are making sure this important program thrives at Meadow Brook!
Stay tuned for more about Meadow Brook's comprehensive enrichment programming, both during and after school opportunities.
Touch base with any thoughts, ideas, or questions…I'm always looking to support innovation on behalf of the kids we serve!
Seth
Seth E. Berg
Principal
Meadow Brook Elementary
Call: (248) 726 -4101
Click: sberg@rochester.k12.mi.us
My Reflective Journey: Berg's Eye View