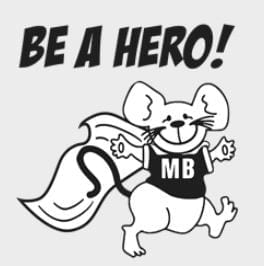 Safe. Respectful. Responsible.
Greetings, Meadow Brook Partners!
I hope you're all having a wonderful weekend! It's been a fun and energized couple of days at the Berg house!
I was playing with our kids the other day. We were playing rough. Getting some energy out.
During some wrestling around the 4-year-old took a knee to the chin from his 5-year-old sister. I heard, "Pause game, pause game!"
We all stopped to look around and figure out who the injured party was. The big guy was handling it pretty well.  A tear or two slid down his cheek, but he gritted his teeth and made clear that he had no intention of tapping out.
I reminded everyone how important their brains are. I told them that we need to work hard to avoid knees and heads meeting during rough play.
Fully recovered, our little wise one announced to the group, "But our hearts are the most important because that's what we share with!"
Indeed.  Our hearts are the most important.
As I reflect on the past week and look forward to another I'm filled with pride. Meadow Brook Heroes do so much to demonstrate our enduring commitment to kindness, compassion, and togetherness!
Our hearts truly lead the way!
This group of Meadow Brook students, parents, family members, and staff spent an evening sharing our light with children who were healing in the hospital just before we left for break:
With love in our hearts, Meadow Brook Heroes came out to share our light with kids healing at Beaumont hospital last night. So proud to be a Meadow Mouse! Here's to a joyful, healthy holiday season for all:)! #ThinkMBE #RCSpride @rochcommschools pic.twitter.com/9MQPJjMfkN

— ThinkMBE (@ThinkMBE) December 21, 2018
Here's a group of third graders sharing their time with kindergarten buddies, helping them understand that they are part of a larger community of joyful learners who care about one another:
Third grade buddies are so fun! @ThinkMBE pic.twitter.com/mj3PoTDGFm

— Kelly Kubik (@mrskellykubik) December 21, 2018
Our First Lego League kids were mentored but the RHS Robotics Team Kids over the holiday break during an incredible collaborative event:
FIRST Robotic team from @RHSFalcons mentor our Meadow Brook students. We exchanged building tips and learn about how each robot was designed. @ThinkMBE @rochcommschools pic.twitter.com/i9YVWU4SMH

— avittorini (@avittorini) January 5, 2019
These fifth grade Meadow Brook Heroes started the new year with a "Kindness Write Around" to emphasize how important it is to support and encourage one another through our challenges and our triumphs:
Our first activity of 2019 is the kindness write- around – starting off the new year on a positive note! @ThinkMBE pic.twitter.com/uBcE8zYz7B

— Charity Troutt (@MsTroutt) January 7, 2019
Some first graders spent some time planning and prepping to share nonfiction so that they could all benefit from one another's learning:
Students planned their own nonfiction read aloud, complete with sticky notes to remind them to ask questions, turn and talk, and point out interesting facts! #peertopeerlearning #1stgrade #tcrwp @ThinkMBE pic.twitter.com/gfR0vz3jHP

— Jessica Stickel (@mrs_stick) January 11, 2019
In play, in learning, in exploration, and in all the moments that we spend growing together as community of safe, responsible, and respectful Meadow Brook Heroes, we are so fortunate to have one another to learn with and from!
Thank you for your patience and your partnership…in it together for the kids!
Here's to another joyful Meadow Brook week!
With Gratitude,
Seth
Seth E. Berg
Principal
Meadow Brook Elementary
Call: (248) 726 -4101
Click: sberg@rochester.k12.mi.us
My Reflective Journey: Berg's Eye View