A Message from Ms. Troutt: Kindness Write-Around in 5th Grade!
Every Monday, we begin our week with a Kindness Write-Around.
In this activity, the whole group sits in a circle with a sheet of paper with their name on it.
Every 40 seconds, we pass the paper to the right and write a compliment for the person whose name is on the paper.
At the end of the Kindness Write-Around, each person receives a paper full of compliments from his/her classmates – and has given a compliment to every classmate, as well!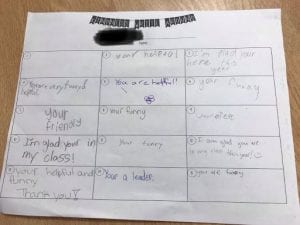 We do this on Monday mornings to set the tone for the week.
It comes before we do any lessons because, above everything else, it is of utmost importance to treat each other with kindness and respect.
In the Kindness Write-Around, everyone must think something positive about everyone else in the room, and everyone receives a paper showing just how important s/he is in our classroom community.
This has been a wonderful community-building tool in our classroom!